Reading some of my previous post one might draw a conclusion that I am anti-Catholicism and perhaps even sliding towards leaving the faith.
The truth is I will not leave Catholicism – unless an unmistakable divine revelation visited me with an alternative path. That does not mean Catholicism will not leave me or reject me for my dissenting voice regarding contemporary application of Christ teaching.
When one hears the word Catholicism they picture the Pope, the Vatican, and sadly a legacy of priest and Catholic institutions that falied to protect the people they served. All three of these entities, which essentially carry the doctrinal message from one generation to the next, are at the end of the day as fallible as the lay public that fills the church pews.
All Catholics comprise Catholicism and its ever reforming "one body" defies a clean definition at any given point in time. Take the divergent positions within the church hierarchy, the multi-cultural base of believers, and the mystery of the Holy Spirit as intermingled forces that define Catholicism. Catholicism is changing every second for two thousand years now.
My own personal objections and disillusionment with specific actions of the priestly caste, or doctrinal rigidity of the Curia, or hypocrisy of believers is not a reason to leave – but a reason to stay.
For dissenting voices to leave the faith would leave the faith increasingly isolated and perhaps tilt its spiritual evolution away from Christ-Centric teachings. Don't let anyone tell you the church's teachings are static and don't change. The church has been changing every moment that passed since Christ death. The changes that emerge over time are often driven by persistent 'bottom currents" of this silent majority. Like oceanographers, we only have a minimal understanding of the currents that drive spiritual evolution and sentimental events in church history. We do not see what lay beneath the surface with great accuracy.
My influence alone is one tear drop in an ocean of hope and faith. The Catholic faith as a whole continues to evolve towards embracing a way of living that "God" would approve as genuinely holy and divinely inspired. The invisible Catholics (active and lapsed) that carry out the principles of the Beatitudes without the self-righteous proclamation of absolute moral authority are the accelerants for institutional changes in the church. Much as deep marine tidal currents contributions to tsunami events or overall ocean health, this silent majorities impact is steady overtime but barely seen in times of calm or crisis.
You know genuine holiness when you see it. You can feel it radiate from the individual. You can see it in their humble and graceful actions all the time, in adversity and in good times. They are free somehow of judging others, of seeking validation or personal gain, and of becoming entangled in self-serving human desires for themselves or for other institutions.
You know it even quicker when the motivation is disingenuous or misguided. Sometimes we do not want to recognize it – as acknowledging disingenuous actions committed by our friends, family, church, or nation comes with a price. The greatest danger to Catholicism and humanity is when we ignore these "whispers or outright screams" by being silent or otherwise complicit.
I have bought these whispers forward to priest in different parishes. Sometimes I was on target with theologically driven content, other times the limits imposed on the church to put out there Catholic idealism as the bar, not watered down messages was clear. The same applies to political parties.
These days it is a good day for me when I can treat everyone I meet with kindness and love in my heart, without judgement for their circumstance, and without malice or impatience when their views or actions are opposed to my conceptions of what is right. Perhaps one person at a time, one blog post at a time, one prayer at a time, one tear drop at a time – I can alter the direction and the face of Catholicism to be more Christ like in action everyday, every moment. However the outcome is not mine to control – only the intent and the actions within my sphere of influence.
Pope Francis, as an example, is taking small steps within his sphere of influence, to change the direction of the church. Many of his actions are seen as anti-clericalism. That is a pure Christ like stance similar to Christ criticisms of the elite religious caste of his time. His newest reformation is aimed at the Curia. An article in American magazine is not hopeful about the obstacles the church faces at reform: https://www.americamagazine.org/id/newsletters. The results of our faiths stances on current issues impacts other institutions and peoples rights all over the world.
The Supreme Court is reviewing a case right now where Catholic Foster Care agencies are seeking access to a) being a foster care provider and b) ability to screen out LGBTQ foster parent applicants: www.nytimes.com/2021/06/05/opinion/Supreme-Court-LGBTQ-foster.html. LGBTQ young people represent 24 to 34 percent of children in the foster care system. Think about that for a moment. How can a Catholic foster care agency appropriately serve a third of the populace when the bulk of its clergy and staff are ill-equipped to fully grasp the complexity and incoherent teachings the church has on LGBTQ issues and their application? Or a firm grasp on the sociological and biological sciences in this area?
Imagine a 14 year old adolescent with LGBTQ identity in the system perhaps driven by his parents lack of acceptance of their child's identity then placed with an agency that labels him/her morally disordered and as part of their screening process rules out a segment of potential foster care parents that would be best suited for this individual? It makes me wonder if the Catholic church should be seeking or accepting secular public tax dollars for the business of education, foster care, healthcare, and other social services agencies at all if there are legitimate non-religious entities above to use the public dollar to do the same? Should not our aim be truly spiritual and in the community at large, amorphous in action, winning converts by attraction – rather then controlling access and provision of specific tax funded services agencies?
The reality is Catholicism falls short being Catholic. We are imperfect messengers of a faith and must do better, not by fiat, but by internal church reformation, individual internal spiritual maturity, and modeling true Christian actions without expectation of others to do the same. Our history of "good works" as institutional agencies is equally filled with works of beauty as it is with works marred by faulty application of church theology imposed on service users or actual outright abuse and criminal activities.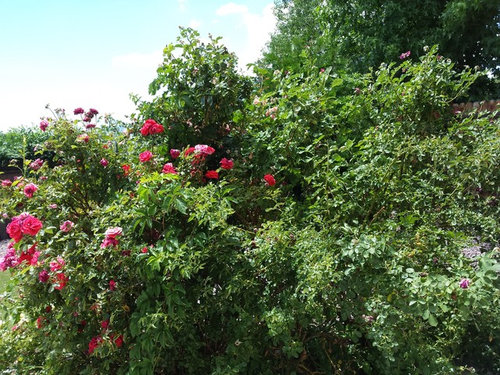 Our Pope and the visible church hierarchy are hedged in by thousands of years of traditions and deeply imbedded interpretations. These interpretations contain beautiful roses of spiritual truth and weeds of mistruths. Telling them apart is tedious as they are centuries old and embedded. Any attempt at change is often seen as a threat to Catholicism itself (Budworms for example) rather then natural self-correction (pruning), and when necessary nutrients and extra care when the spirit is in crisis (fertilizer or other gardening interventions). The integrity of the church itself is threatened by how to prune its traditions and evolve without losing its Christ-Centric identity.
It is a humbling and treacherous task for a human institution filled with toxic religous camps and influenced in an outsized manner by financial and political influencers. My opinion is the church must withdraw from its overextensions in many areas of public debate as well as withdraw from controlling all and being overtly involved in the secular disputes of the day.
The church must downsize theologically, financially, politically, and as an institution (clerically). Our own house must address the theological and practical incoherencies where our clergy and our believers are in a state of constant hypocrisy. Where we are doing harm to people "not like us" we must withdraw our self-righteousness and look deeply inside our own house first for spiritual reckoning and renewal.
This requires for the institution and for each of us an active process to pivot or lean into a change process. It does not mean withdrawing from social justice issues or acts of good faith. It does mean revising our purpose to be closer to our core like values, increase our ability to embrace change (have options to redress institutional error), and proactivity in our personal and collective spiritual lives.
What the hell does this all mean? What do we need to do now? We often as Catholics mention pray in times of crisis, humility, and action. Catholicism does not have the absolute answers for today's problems. Here is some of what I try to practice (very imperfectly):
Pray: Before acting seek out spiritual grounding. Easier said then done as prayer comes in many forms: known prays, readings, conversations, meditation, seeking true understanding of the depth of the problem, spiritual discernment on what our role and sphere of influence is, and requesting our higher powers assistance with finding the right path forward. Perhaps these four basic forms of prayer capture intentional purpose of prayer time for Catholics: https://www.cathedralstm.org/about-our-catholic-faith/expressing-our-faith/four-basic-forms-prayer/
Humility: We may not have the answer(s) and should own that outright. We do not own the market on understanding and explaining human suffering and misery, human behavior, and divine providence. We have individual experience and personal knowledge as to how we have faced troubling issues and perhaps we have additional expertise in some areas (solution-based recommendations that are evidence driven) that may be offered as suggestions.
Action: After proper application of Prayer and Humility we maybe in the position to act personally. What is our intent of acting and are we the best person to act on any given task. Will our actions help not only the immediate issue but support long term change. Are our actions driven by what is best for everybody or negatively influenced by our own desires for personal gain (hero pride, personal wealth or status acquisition, intellectual or spiritual self-righteousness). You may be surprised where the spirit takes you if you follow it.