Last year presented insidious challenges to our collective well-being. We suffered significant losses to the original COVID variant and an explosion of the Omnicron variant, deaths unrelated to COVID, ongoing "populism" politics spurning unhealthy anxiety and hate, economic hardships, and the not-so-hidden repercussions of global warming.
These external challenges are in addition to whatever personal demons (metaphorically speaking) we each individually carry on our shoulders. Past traumas, personal failures, relationship difficulties, disabilities, medical issues, and personal challenges are common baggage we all carry on our shoulders.
The continuous and unrelenting nature of suffering in its multifarious presentations can be overwhelming, depressing, and draining. Pervasive tiredness can overcome the strongest among us. For some, this can even leap over into clinical depression or other mental health or physical manifestations requiring professional medical interventions.
A Tzu Chi USA described the Buddhist handling of the term suffering – referred to as dukkha in Pali and duhkha in Sanskrit – as indescribably with a single English word either. According to Buddhist sutras (scriptures), three root sufferings and three cravings contribute to suffering. Pain, anxiety, stress, distress, discomfort, frustration, and "unsatisfactoriness" are words used to capture suffering. If interested in knowing your "enemy" of peace and joy well – the Buddhist traditions provide a pretty good road map.
My own faith has an apostolic letter devoted to suffering by Pope John Paul II called "Salvific Doloris" which, in part, concludes, "Suffering is certainly part of the mystery of man. Perhaps suffering is not wrapped up as much as man is by this mystery, which is an especially impenetrable one."  Despite this open-ended answer to the question of suffering, the Pontiff within this letter also prescribes spiritual answers for facing immense suffering. Its teachings help me attribute meaning to my trials and provide me, at times, deep consolation spiritually in my times of darkness.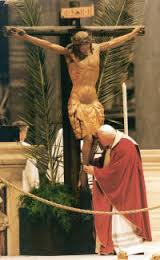 The pontiff points out where in scripture suffering is referenced: "Sacred Scripture is a great book about suffering. I would be lying to you if I did not own that sometimes great spiritual aridity leaves me feeling alone with today's problems. These times, I am challenged to double down on my faith and persevere in faith. The Pontiff quotes from the books of the Old Testament a few examples of situations which bear the signs of suffering, and above all moral suffering: the danger of death(5), the death of one's own children(6), and, especially, the death of the firstborn and only son(7); and then too: the lack of offspring(8), nostalgia for the homeland(9), persecution and hostility of the environment(10), mockery and scorn of the one who suffers(11), loneliness and abandonment(12); and again: the remorse of conscience(13), the difficulty of understanding why the wicked prosper and the just suffer(14), the unfaithfulness and ingratitude of friends and neighbours(15); and finally: the misfortunes of one's own nation(16)." Do these sound familiar to you today?
Why am I spending so much space on suffering on a blog on a Joyous 2022? I know joy will not be possible for us if we do not accept the reality of suffering and the potentiality for its destructive force in our lives going forward. Understanding suffering, preparing for suffering, and perhaps even maturely embracing suffering (for the spiritually transcendent few among us) is what both religious traditions above teach. Both of those paths are long paths of contemplation and significant commitment – which I encourage.
In the meantime, however, I recommend a lighter path today or preferably simultaneously with one of the above paths.
"Gratitude, thankfulness or gratefulness, from the Latin word gratus "pleasing, thankful," is a feeling of appreciation felt by the recipient of kindness, gifts, help, favors, or other types of generosity, to the giver of said gifts. The experience of gratitude has historically been a focus of several world religions." (What post is complete without a Wikipedia quote?)
However, achieving this feeling is not my recommendation for a joyous 2022, though I hope you
have these feelings often! Transforming these feelings into action consistently and progressively throughout 2022 will profoundly increase your joy. If done so with a genuine and humble spirit, it may synergetically have a profound impact on those around you. USC University of Southern California noted that spiritual or philosophical gratitude has its roots throughout history. Not a USC fan, how about "Harvard Health Medical School: Giving thanks can make you happier" or "Healthline: The Benefits of Gratitude and How to Get Started."
The 12 step self-help community also relies heavily on the nurturing of gratitude and service (action) all throughout the program, but especially in the 12th step. Click here for an audio story of one of the founding members of Alcohol Anonymous entitled "Gratitude in Action." Epidemiologic studies, as well as studies in treatment-seeking populations, converge to support the finding that
early-life trauma is common in people with alcohol dependence. Battling alcoholism or any other addiction in addition to healing from early childhood trauma is not easy. This is not surprising. The 12 step self-help community, although not a religious group, does espouse a spiritual foundation that culminates with the 12th step: Having had a spiritual awakening as the result of these steps, we tried to carry this message to alcoholics and to practice these principles in all our affairs. In this step, people in recovery get to most practice gratitude in action in a humble manner. Some A.A. groups devote an entire weekly meeting to the topic of gratitude alone. Look at Cleveland Alcoholics Anonymous Cleveland article – Gratitude in Early Recovery. If alcoholics and addicts recover using Gratitude in part as medicine – it can work for everybody. There is no condition or ailment they have not experienced or faced in their fellowship.
Practicing Gratitude is so easy and so accessible to everyone. It is a great starting point to a new you and a more positive future. It may lead you to have enough strength and motivation to take other challenging steps as well – with things on your "to-do" list you have put off or never thought was possible.
Here are some additional tools if you do not know where to start or need more motivation:
Life Hack: 4o simple ways to practice gratitude.
Positive Psychology: 7 Best Gratitude Apps to increase your well being
The above links may lead to sponsored or "pay for apps" as well. Gratitude and peaceful living are in high demand and are big business. If they help you get started or keep going – they may be worth the investment. Regardless of how to get started and keep going – discipline is required to actually "do" rather than just read, understand, and feel gratitude.
Everything you need is in this post or one of the links provided for alternative ideas. Your local library also has free resources.
I acknowledge you may be suffering; I know I cannot fully grasp your situation or enduring pain. I invite you to seek Joy anyway in 2022 by practicing the action of Gratitude every day in whatever form you decide.
Sincerely if you managed to read this entire blog and are committed to at least five minutes a day – please leave a comment now with that commitment on my blog and report back later!
Regardless, may peace, joy and health follow you in 2022!
Regards,
P.S. I made a small contribution to Tzu Chi USA while writing this post in gratitude for their detailed description of the suffering and the work they do….gratitude in action. I have no affiliation with this group.